Building Relationships and Improving Lives
Hello. Thank you for showing interest in our dental practice. I have been practicing dentistry for more than 15 years and it still excites me. I enjoy the problem-solving aspect, the evolving technology, and the satisfaction of helping people be healthier and happier. Most of all, I enjoy the connections that are made with so many wonderful people.
I was raised in a small community, so I recognize the benefits and appreciate the lifestyle. One of those benefits is building long-term relationships with families and individuals. It is fun seeing kids light up when I tell them that I also get to take care of their grandparents. It is also enjoyable for me to know people on a more personal level, where we know a little about each other's hobbies and interests, and I am more than just their dentist.
Dentistry is crucial to our overall health. Too often, I see people who do not fully understand the importance of regular care or have postponed it for various reasons to the point they feel embarrassed or hopeless. Some are simply afraid because of past experiences. Unfortunately, when our oral health is suffering, it affects our systemic and emotional health, which compounds the problem.
My general goal has two parts: First, to help children at the earliest ages have positive experiences so they enjoy visiting the dentist and have a lifetime of oral health and happiness. Second, to help adults of all ages to overcome bad past experiences or self-neglect, and to become and remain healthy through the natural changes and sometimes challenging factors associated with age.
Education and Experience
Undergraduate degree, B.S. in microbiology — Weber State University, Ogden, Utah
Doctorate of Dental Surgery — Dalhousie School of Dentistry, Halifax, Nova Scotia, Canada
Professional Memberships
American Dental Association
Kansas Dental Association
Academy of General Dentistry
Spear Study Club
CEREC® Doctors
Beyond the Practice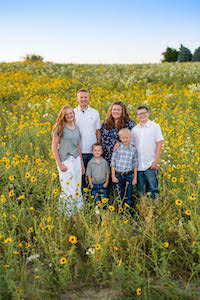 I grew up in northern Utah but have also lived in California and Nova Scotia before moving to Kansas in 2009. I met my incredible wife Amber way back in high school. We have four wonderful children: Alivia, Ashton, Logan, and Lucas. Our favorite sports are basketball, tennis, and running. We also enjoy hiking, camping, hunting, fishing, and all things Disney.
Service and Community
Board member for Russell Child Development Center
Advisory board for Colby Community College dental hygienist program